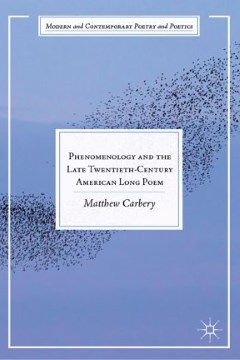 Springer, Dordrecht
2019
235 Pages
ISBN 978-3-030-05001-6
Phenomenology and the late twentieth-century american long poem
Phenomenology and the Late Twentieth-Century American Long Poem reads major figures including Charles Olson, Lyn Hejinian, Nathaniel Mackey, Susan Howe and Rachel Blau DuPlessis within a new approach to the long poem tradition. Through a series of contextualised close readings, it explores the ways in which American poets developed their poetic forms by engaging with a variety of European phenomenologists, including Hannah Arendt, Maurice Merleau-Ponty, Martin Heidegger, Emmanuel Levinas and Jacques Derrida. Consolidating recent materials on the role of ContinentalPhilosophy in American poetics, this book explores the theoretical and historical contexts in which avant-garde poets have developed radically new methods of making poems long. Matthew Carbery offers a timely commentary on a number of major works of American poetry whilst providing ground-breaking research into the wider philosophical context of late twentieth-century poetic experimentation.
Full citation:
Carbery, M. (2019). Phenomenology and the late twentieth-century american long poem, Springer, Dordrecht.
This document is unfortunately not available for download at the moment.