G. Dierckxsens, Paul Ricoeur's moral anthropology—singularity, responsibility, and justice
pp. 327-333
In true Ricoeurian fashion, Geoffrey Dierckxsens' book, Paul Ricoeur's Moral Anthropology, seeks to weave together and to mediate several discourses and aims. As the author attests, the book's primary purpose is to serve as a guide to Ricoeur's moral anthropology, commentating on its major themes ("language, feelings, lived experience, others, sense, desire, justice, and the narrative").1 At the same time, the book is intended as a critical study, and in two directions. On the one hand, Dierckxsens argues, alongside Ricoeur, against certain morally relativistic and reductively naturalist trends that he finds in contemporary analytic moral philosophy. On the other hand, he argues against what he considers Ricoeur's excessively universalistic treatment of moral norms. This latter argument brings out Dierckxsens' main theme, which also gives the book its subtitle: Singularity, Responsibility, and Justice. Dierckxsens hopes to show that the notion of singularity is not only central to...
DOI: 10.1007/s11007-019-09469-6
Full citation:
Oldfield, J. (2019). Review of Paul Ricoeur's moral anthropology by Geoffrey Dierckxsens. Continental Philosophy Review 52 (3), pp. 327-333.
This document is unfortunately not available for download at the moment.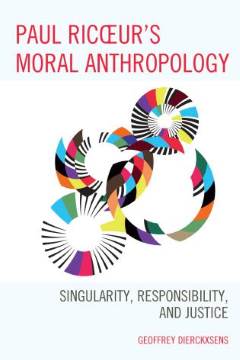 Paul Ricoeur's moral anthropology: singularity, responsibility, and justice
2017
Lanham, Lexington Books