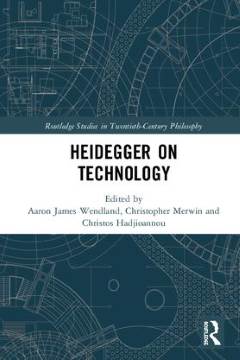 Routledge, London
2018
344 pages
ISBN 9781138674615
Heidegger on technology
Edited by
This collection offers the first comprehensive and definitive account of Martin Heidegger's philosophy of technology. It does so through a detailed analysis of canonical texts and recently published primary sources on two crucial concepts in Heidegger's later thought: Gelassenheit and Gestell. Gelassenheit, translated as 'releasement', and Gestell, often translated as 'enframing', stand as opposing ideas in Heidegger's work whereby the meditative thinking of Gelassenheit counters the dangers of our technological framing of the world in Gestell. After opening with ascholarly overview of Heidegger's philosophy of technology as a whole, this volume focuses on important Heideggerian critiques of science, technology, and modern industrialized society as well as Heidegger's belief that transformations in our thought processes enable us to resist the restrictive domain of modern techno-scientific practice. Key themes discussed in this collection include: the history, development, and defining features of modern technology; the relationship between scientific theories and their technological instantiations; the nature of human agency and the essence of education in the age of technology; and the ethical, political, and environmental impact of our current techno-scientific customs. This volume also addresses the connection between Heidegger's critique of technology and his involvement with the Nazis. Finally, and with contributions from a number of renowned Heidegger scholars, the original essays in this collection will be of great interest to students of Philosophy, Technology Studies, the History of Science, Critical Theory, Environmental Studies, Education, Sociology, and Political Theory.
Full citation [Harvard style]:
Wendland, A.J. , Merwin, C. , Hadjioannou, C. (eds) (2018). Heidegger on technology, Routledge, London.
This document is unfortunately not available for download at the moment.